Christ-centered, Quality Education
The number one goal of Good Shepherd Lutheran School is to see that each child develops to the fullest of his / her capabilities. Each activity and program is dedicated to our Lord and Savior, thus inspiring each student to dedicate all they do to His service.
Find out how your child can reach reach his / her fullest development educationally, morally, socially, and spiritually at Good Shepherd Lutheran School. Visit and take a tour!
Schedule Your Tour Now!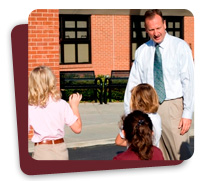 Welcome!
Come tour and experience our school!
Get Started with Admissions! (New Families)

Get Started with Re-Enrollment! (Existing Families)



Marching Band available in grades 5-8
Caseyville and Maryville Parades
Important Forms

Click here to watch: God Bless America Video  Good Shepherd Students sang "God Bless America" at the 7/9/17 Cardinals game"