What is Reading Counts?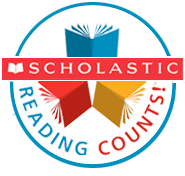 Reading Counts is a computer program designed to encourage and monitor the reading development of our students. They can check out books from our library, the public library, or their classroom teachers, and use Reading Counts to take quizzes about those books and earn points.
Reading Counts is an excellent way for students to be individually tested for their reading comprehension skills.
Points are accumulated throughout the year, and in May each year special achievements are recognized. Each class sets a goal and is rewarded when this goal is achieved.
The Quiz List

There are over 45,000 quizzes available in the Reading Counts database. You can perform a search of the database on the Scholastic Reading Counts website.
If you would need additional information, please contact Mrs. Suzie Robinson or Mrs. Peg Rincker.
Who Uses It?

Reading Counts is used by our students in Grades 1-8. Kindergartners may use it at their teacher's discretion.