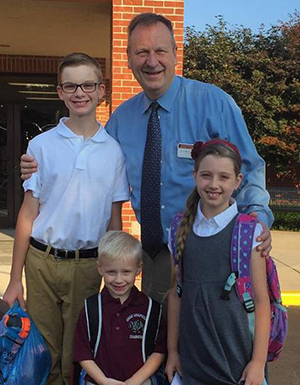 Welcome to Good Shepherd Lutheran School! It is my pleasure and opportunity to greet you in His name.
This is our 40th year in offering a "Quality Christ-Centered Education", centered in Christ. Our student body is over 350 students in preschool through 8th grade while serving 22 communities. These students will have the opportunity to hear the grace, love, and forgiveness of our Lord Jesus Christ from quality, caring Christian teachers.
GSLS has a staff of over 24 teachers who are committed to providing a quality Christian education with an emphasis on a Christ-centered environment. In addition to the regular curricular areas, our students also benefit from instruction in STEM, Art, Spanish in Grades K-8, Technology, Physical Education, Pee Wee Basketball, Music – band, marching band, choir, and piano & string lessons – and a resource teacher. We also provide opportunities for interscholastic sports in cross country, volleyball, baseball, basketball, cheerleading, and track.
As we experience our 40th school year, the theme "Rooted in Christ", is based on Colossians 2:6-7. Therefore, as you received Christ Jesus the Lord, so walk in him, rooted and built up in him and established in the faith, just as you were taught, abounding in thanksgiving.
Good Shepherd's mission is to provide each student with a quality Christian education. We recognize that this begins with the premise that Jesus Christ is our Lord and Savior and in Him, we have eternal life. The curriculum and all activities are developed around this premise.
We believe Good Shepherd Lutheran School is a great place to grow in knowledge and understanding, in skills for living, in getting along, in developing our God-given abilities, and most importantly in our faith and life with Jesus. GSLS also serves families in various ways and helps parents carry out their parental responsibilities in Christian education. Partnership in education is a must as we strive to serve our school families.
We look forward to carrying out our mission with each family as we partner and grow together.
Serving Him,
Robert Mayhew
Principal