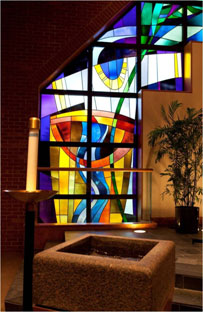 We believe very strongly in offering opportunities to the students to learn more about God and to praise Him in worship.
We have chapel every Thursday from 8:25-8:55 a.m.
Parents are always welcome!
Baptismal Birthdays are celebrated during the first chapel service each month.
Chapel offerings go to different mission projects to further God's kingdom.
Students use their talents to glorify God by playing for pre-service and post-service music. Selected choirs also sing during Chapel services.
If you have questions regarding our Chapel service, please contact Pastor Walther at michaelpwalther@gmail.com
Spiritual Nurture
Daily Devotions, Bible Readings, and Prayers
God's Word is highly valued at Good Shepherd.  Each school day begins with school-wide, student-led prayer and the reciting of the pledges of allegiance to the American Flag and the Christian flag over the intercom.  Classrooms gather at the beginning of the day for devotions, Bible readings, and prayer.  Prayers are said at meal times, as the need and opportunity arise during the day, and at the close of the school day.
School Chapel Offerings
August – October
'School to School' program will assist Lutheran schools recovering from Hurricane destruction
In response to the devastation resulting from Hurricanes Harvey and Irma, LCMS School Ministry and LCMS Disaster Response have developed a plan for response, support and assistance for schools in the areas that were affected by the storms. This new initiative is called "School to School" and we hope that you will invite the schools in your district to participate.
LCMS communications has constructed a specific School to School webpage that is a part of the overall LCMS.org website. This page has been designed to express the needs of Lutheran preschools, elementary schools and high schools affected by the storms. Affected schools have provided their school contact information and a description of the damage they have sustained. Some schools may provide a giving link to donate to their school; others will simply share their mailing address.
All unaffected Lutheran schools may now choose one or more affected schools that they wish to support.  Prayers for all of these schools are requested and unaffected schools may provide additional support through their gifts in response to specific needs identified by the storm-affected schools.  All 100% of any monetary donations will go directly to the affected schools.  In this way, Lutheran schools across the nation and around the world can support other schools who are attempting to recover and tangibly assist in their road to recovery.
We are pleased to announce that the website is now open for business and schools may access this information at https://schooltoschool.lcms.org/.  This webpage will allow our schools to demonstrate our spirit of generosity to those in need and establish ongoing relationships between schools that illustrates the scope of our wonderful, Christ-centered LCMS school system.  Please share this link with the schools and ministries in your District!
November
India Transformed
"During the month of November, we will be dedicating our chapel offerings to help sponsor children to go to our Christian schools in India.  An offering of $500 would support one child with tuition to attend our large school in Bangalore, or will provide food, clothing and education to a child in one of our many village schools.  Any amount will go toward helping an unsponsored child to become part of our program to share Jesus and a wonderful education"
December
CAMA Food Pantry
The collections for these months will benefit the Collinsville Area Ministerial Association. CAMA is an association of area pastors who work together to help the community. The Collinsville Food Bank is the main part of the ministry. The Pantry not only provides food but also helps families with other needs. CAMA also works together with the community leaders for improvements.
January – March
Good Shepherd Scholarship Fund
The collections for these months will benefit community families who want their children to have a Christ-centered education.
April – May
SOS – Spirit of Sharing
The collections for these months will benefit families that need assistance with food. The SOS Spirit of Sharing is a way to assist families by feeding them.