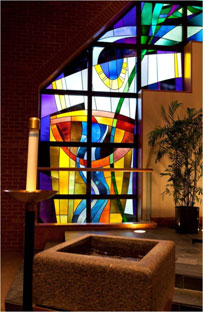 We believe very strongly in offering opportunities to the students to learn more about God and to praise Him in worship.
This year we split our chapel in 2 groups (Pre-Gr. 2) and (Gr. 3-Gr. 8) every Thursday from 8:25-8:45 a.m. and from 8:50 -9:10 a.m.
Parents are always welcome to watch – we are live streaming them for this year!
Baptismal Birthdays are celebrated during the first chapel service each month.
Chapel offerings go to different mission projects to further God's kingdom.
Students use their talents to glorify God by playing for pre-service and post-service music. Selected choirs also sing during Chapel services.
If you have questions regarding our Chapel service, please contact Pastor Walther at michaelpwalther@gmail.com
Spiritual Nurture
Daily Devotions, Bible Readings, and Prayers
God's Word is highly valued at Good Shepherd.  Each school day begins with school-wide, student-led prayer and the reciting of the pledges of allegiance to the American Flag and the Christian flag over the intercom.  Classrooms gather at the beginning of the day for devotions, Bible readings, and prayer.  Prayers are said at meal times, as the need and opportunity arise during the day, and at the close of the school day.
School Chapel Offerings
August – October
SOS – Spirit of Sharing
The collections for these months will benefit families that need assistance with food. The SOS Spirit of Sharing is a way to assist families by feeding them.
November – December

Collinsville Food Pantry
The collections for these months will benefit the Collinsville Food Pantry.  The food pantry is available to residents in need of food. The Pantry not only provides food but also helps families with other needs. This service helps those in crisis meeting certain criteria and still attempts to reinforce a self esteem of independence at the same time.
January – May
Good Shepherd Scholarship Fund
The collections for these months will benefit community families who want their children to have a Christ-centered education. A great out reach tool that has brought families to Christ.