Note: students from all options are in their classroom at the same time; the difference is in how long they stay.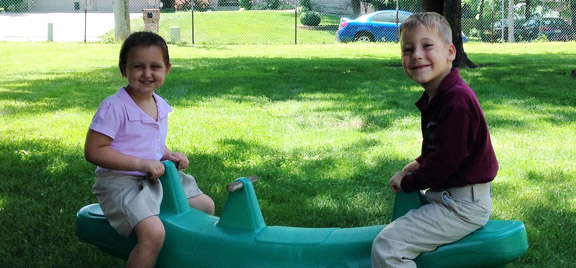 Mini Charger Half Day: 8:15—11:30 a.m.
This is for parents who prefer a traditional half-day program and do not need extended hours.  
Schedule may vary based on appropriateness for various ages.
8:00—8:15: Arrival, Settling In
8:15—8:50: Morning Meeting, Circle Time
8:50—10:15: Snack, Learning Centers
10:15—10:30: Jesus Time
10:30—11:00: Outside/Gross Motor Activities
11:00—11:15: Music
11:15—11:30: Story, Goodbyes
11:30: Dismissal
Mini Charger School Day: 8:15 a.m.—3:15 p.m.
This option is perfect for students who have siblings in the elementary school. It includes more learning time as well as nap and lunch.
8:00—11:30: See Half Day Schedule
11:30—12:15: Lunch
12:15—12:30: Nap Prep
12:30—2:00: Nap/Rest Time
2:00—3:00: Snack/Learning Centers
3:00 – 3:15 p.m.: Group Learning Activity
3:15 p.m.  Dismissal
Lunch is charged separately.
Mini Charger Extended: 6:00 a.m.—6:00 p.m.
This is the option for students who need care before or after regular school hours.
6:00—8:00: Arrival/Small Group Activities/Breakfast (brought by student)
8:00—3:15: See School Day Schedule
3:15—4:15: Outside/Gross Motor/Nature Exploration
4:00—6:00: Learning Centers/Individual and Small Group Activities
Lunch is charged separately.
Note: Enrollment does NOT include holidays; only school days. Parents will pay extra when school is not in session.