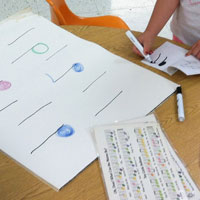 The primary objective of the preschool is to provide learning opportunities that will enable your child to reach his/her God-given potential, and to achieve a positive self-image. Through exploration and discovery in a loving, age-appropriate environment, the child develops spiritually, emotionally, physically, socially and intellectually.
Spiritually
During daily "Jesus Time" your child will learn Bible stories, songs and prayers, and develop a faith-relationship with Jesus.
Your child learns that God made and cares for the world and everyone in it.

Emotionally
Using opportunities to make decisions and choices within limits, your child will build self-confidence and a positive self-image.
Your child will learn cooperation with others through interactive play at theme-based learning centers.
Independence and self-discipline are developed through individual free play.
Respect for others' feelings is also taught.
Socially 
Your child will develop and practice good social manners in various situations.
Responsibility for themselves and expectations in a group setting will be learned and practiced.
Physically
Small muscle development for skills like writing, coloring and cutting is encouraged.
Large motor activities indoors and outdoors provide coordination and physical fitness.
Movement and music are often part of these activities.
Intellectually
The program stimulates your child's curiosity and self- motivation to learn about the world around them.
Basic skills in the areas of math, reading, science, music, art, and language arts are taught.
Kindergarten readiness is the focus of the 4/5 classes.
Computers and iPads provide children with the opportunity to reinforce skills and information gained during their preschool experience.
Our theme-based curriculum encourages these goals:
[spoiler title="Three Year Olds" style="fancy" icon="arrow-circle-1″]
Social skills – Sharing and communicating with others
Learn to interact with adults and children other than family
Jesus Time stories, worship and prayers
Weekly Chapel
Holiday and seasonal Themes
Improve in coordination and large muscle skills
Enjoy listening to stories and books
Use the 5 senses to learn about their world
Learn songs and finger plays
Creative art experiences
Recognize colors
Introducing numerals 1-10
Introducing letters in their name and learning environment
Recognize shapes
Recognize name / Trace name
Firefighter Visit
Pumpkin Farm Field Trip
Zoo Field Trip
Grandparents' Day
Classroom Holiday Parties
End of Year Closing Program
[/spoiler] [spoiler title="Four Year Olds" style="fancy" icon="arrow-circle-1″]
Kindergarten Readiness in math and reading
Jesus Time stories, worship and prayers
Weekly Chapel
Holiday and seasonal themes
Participate appropriately in group discussion
Learn songs and finger plays
Enjoy different types of music and begin to identify instruments
Run, jump, kick, throw and catch a ball, ride a tricycle, swing independently
Enjoy listening to stories and books
Recognize and begin to draw shapes
Engage in creative art exploration
Recognize numerals 1-20
Math skills of patterning, sequencing, sorting, comparing
Recognize name/ Write name
Recognize alphabet letters and sounds
Write letters as presented
Identify rhyming Words
Learn to care for physical and dental health
Memorize full name, birthday, address and phone number
Make predictions about simple science experiments
Grow more confident in asking questions and problem-solving
Identify colors in Spanish
Count from 1- 10 in Spanish
Apple Picking Field Trip
Pumpkin Farm Field Trip
Science Center "Discovery Room" Field Trip
Police Officer Visit
Firefighter Visit
Grandparents' Day
Classroom Holiday Parties
End-of-Year Closing Program
[/spoiler]